By Kathy Mancil
If you are moseying through downtown Ocala on Saturday morning and you are delayed by cattle stampeding across the boulevard, there's no need to be alarmed.
In fact, you may just want to follow the cattle — and the cowboys driving them — as they make their way to Tuscawilla Park for a party.
The city of Ocala and all six Marion County Rotary clubs are presenting a daylong cowboy-themed festival at the park, which the city hopes will draw thousands, said Suzanne Shuffitt, supervisor of the city's Discovery Center. This is the first year for the festival, but it is the second year for the cattle drive, which begins at 10 a.m. at the corner of Southeast Eighth Street and Southeast Osceola Avenue.
The 10 cowboys slated to drive 20 to 30 steers are the "real deal," said Andy Seiler, who is organizing the cattle drive with Ruben Lamb.
"This is a core group of guys who work in the industry day in and day out," he said. "Fifty or 60 years ago, a quarter of our population was involved with agricultural production. Today, only 2 percent work in agriculture. I think it's very important to raise awareness about all the hard work and dedication today's ranchers and farmers put forth to provide the food we all eat."
Shuffitt agreed, noting the festival is designed to raise awareness about local agriculture production. "And it's a celebration of Marion County's rich agricultural heritage," she said.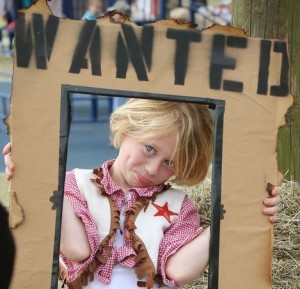 The timing is right, as hundreds of students dig their boots into the Southeastern Youth Fair starting this weekend. The fair kicks off with the Florida High School Rodeo on Friday and Saturday, with livestock exhibits, shows and auctions starting Sunday at the Southeastern Livestock Pavilion.
Outside of the rodeo ring, the public's first glimpse of the weekend's cattle, cowpokes and horses will be Saturday morning on the streets of downtown Ocala.
Spectators are encouraged to follow behind the cattle drive, or — better still — watch from the roadsides. Shuffitt said she expects people will begin "staking out" their spots early, such as they do with Ocala's annual Christmas parade.
She said no roads will be closed. Police will simply stop traffic as the cattle and cowboys approach intersections. Besides, she noted, the cattle move quickly. Opening ceremonies at the park are scheduled for 10:45 a.m., which will allow plenty of time for the cowboys to take the stage, she said.
"Come dressed in your cowboy and cowgirl attire," she recommends. "And be prepared to spend the whole day enjoying good food and good, clean fun."
Headlining the entertainment lineup, she said, is "a killer country music band" called Hayfire out of Orlando. Local singers and dancers, including country line-dancers, also will perform.
A cowboy entertainer will perform roping tricks and "cowboy magic." A blacksmith will show off his trade, and cracker horses will be on hand. Kids' activities will include stick-horse races, pony rides, face-painting, sack races and roping.
Children also will be invited to design their own cattle brand.
Adults and children can ride the barrel bulls, Shuffitt said, and an "old town arcade" will be set up offering horseshoes, slingshots and other "old-timey games."
That's not to mention cow-patty bingo. And, yes, Shuffitt noted, that game does involve a real heifer and — if all goes as planned — real cow patties.
Many activities are free, but some will have a charge.
Vendors will be on hand, and sweet treats such as kettle corn will be offered. But most of the food will be sold by the Rotary clubs.
"We're setting up an entire food court, offering mainly cowboy-themed food," said Tim Dean, president of the Ocala Rotary Club. Proceeds will be donated to the Discovery Center.
Shuffitt said the funds will be used to convert the 5,000-square-foot second floor of the Discovery Center into a gallery.
"The Rotary clubs are all about service above self, so we're excited to help raise funds for a project that will benefit so many kids and families in this community," Dean said. "And it is a celebration of something very unique to Florida and Marion County, being that we are a top producer of cattle and agriculture."
This article first appeared in the
Ocala Star Banner